The best sight ever.  The tears well up every single time.
After not sleeping very well on the floor of the hotel inside the Orlando airport, I was the first one up on Monday morning. I know that's shocking given the relative comfort of hotel room floors and all, right? We all showered and dressed and ate a selection of pop tarts and granola bars I'd brought along with us. We checked out of the Hyatt and were off to the Magical Express area.
It was lucky that there was no wait for us.  We navigated the rope lines (good practice for the parks!) and  we got right on a bus and then sat for 15 minutes before we were taken to the Art of Animation Resort. We were the only people on the bus so my gown had her own seat!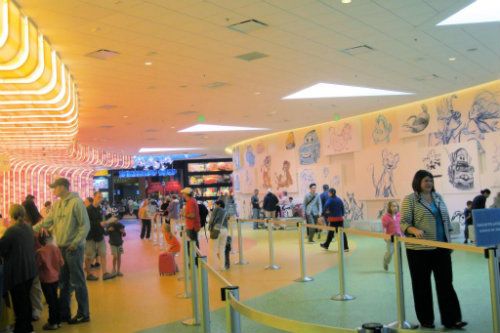 Hey Hey, it's the Lobby!
We were so excited to stay at AoA. Our travel agent, Wendy, noted that this was a family-wedding-moon trip and we knew we were going to be assigned to a great room in a great location.  And we were!
We decided to poke around and take some pictures with the sketches on the wall and be silly touristy people, just like all the other touristy people there. And then we walked around the resort and took even more silly pictures.