Escort cards/favors: done
Names smeared to protect the innocent!
The activity books are mostly done but my stapler isn't long enough to use so I have to punch holes and tie with ribbon.
I found this cute little box to hold our rings at Hobby Lobby. I added the flower to the top. I need to add a little red pillow and a ribbon to the inside.
I bought a red LED candle to use as a memorial candle. (Reception is outdoors-- doesn't go well with actual flames!) Made a little sign to go with it.
Our buttons that go in the welcome bags are finished and I should receive them in a few days.
I put the magnets on the door hangers that go in the welcome bags.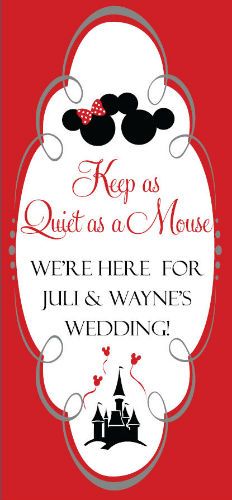 I bought the bags to make the kids goodie bags and I've started collecting other things for the welcome bags.
I made some flower clips for my hair.
I need to make Wayne's ball cap ears.
I believe I have finished the ceremony (except Wayne's vows). I need to send it to our officiant for approval.
I need to buy a sand ceremony kit.
Wayne needs to get a suit and I will then follow his choice for the boys.
Need to buy Hershey's Kisses and label them for favors.
I should probably call the store and check on Munchkin #2's dress.
Would like to design and print "I Spy Cards" to put on the tables-- a list of photos for guests to collect. Really a cute idea.