On Saturday, I finally did something I'd been putting off for awhile. I took Munchkin #2 shopping for a dress for the wedding and a day of hanging out together. I'd wanted to hold off as long as possible so that we didn't have an issue where we bought a dress and by the time of the wedding, it didn't fit her. I knew that finding a dress that fit, was flattering, age appropriate and also not too expensive was going to be an issue.
We woke up bright and early and drove to a large David's Bridal store just outside Philly. I had a list of dresses that I wanted her to try on and asked the saleswoman for assistance with any dresses she thought would work. Ignore the Teva sandals, she'll be wearing Chucks for the actual wedding. She was a little confused when our sales associate brought over dresses in a rainbow of colors because I'd already told her that her dress was going to be red and no, she couldn't have the iridescent purple, ruffled, sparkly, short cocktail dress that was displayed at the front of the store.
She tried on like 15 dresses. It came down to these.
This navy blue one was a good length and only the bodice needed to be taken in. It was our second choice, in the end. This red one was actually my first choice, but it was the most expensive and also would be the most expensive to alter because there were like five layers to the skirt. I didn't feel like her dress should cost more than mine, so we crossed it off the list. Sniffle.
This blue one was cute and was in a very light fabric but Lexi didn't like it. This yellow one is the one we ordered. This isn't really a good picture. I think I snapped it before I actually straightened out the slip and skirt. It only needs to be taken in a little under each of her arms and the weird hangy piece in the front. I'm not sure that that wasn't damage on this particular dress but we'll see when hers comes in. This one kind of mirrors the style of my wedding gown and was really flattering on her. I would like to find a little ivory bolero or shrug for her to wear with it to make it a little more age appropriate.
Additionally, our little princess tried on
all
of the tiaras on display.
Here's what the dress looks like on David's website: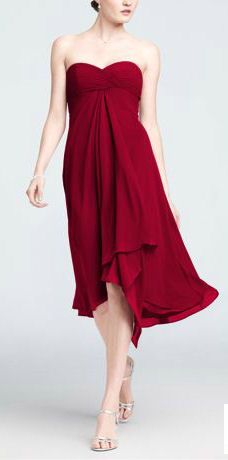 On the Munchkin, the dress is ankle length and a little higher on the chest. It comes with spaghetti straps, of which I think we will make use.
After our shopping fun, we went out to lunch. I wanted brick oven pizza, which I love, but the munchkin wanted to go to the Chinese buffet and since this trip was all about bonding, that's what we did.
And I have been paying for it for a couple of days now. I had some steamed clams from the buffet and since some of the shells were closed (not any of the ones I ate) I should have not eaten any of them. But I did. And I have been so sick with stomach cramps, fever, headache, vomitting and other stuff. It sucks. Bright side is, I lost six pounds; however, I am likely to gain it all back as soon as I am able to keep food down.