The best sight ever. The tears well up every single time.
After not sleeping very well on the floor of the hotel inside the Orlando airport, I was the first one up on Monday morning. I know that's shocking given the relative comfort of hotel room floors and all, right? We all showered and dressed and ate a selection of pop tarts and granola bars I'd brought along with us. We checked out of the Hyatt and were off to the Magical Express area.
It was lucky that there was no wait for us. We navigated the rope lines (good practice for the parks!) and we got right on a bus and then sat for 15 minutes before we were taken to the Art of Animation Resort. We were the only people on the bus so my gown had her own seat!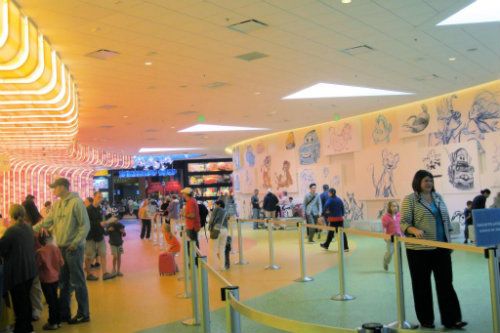 Hey Hey, it's the Lobby!
We were so excited to stay at AoA. Our travel agent, Wendy, noted that this was a family-wedding-moon trip and we knew we were going to be assigned to a great room in a great location. And we were!
We decided to poke around and take some pictures with the sketches on the wall and be silly touristy people, just like all the other touristy people there. And then we walked around the resort and took even more silly pictures.
Here's some of the greatest hits:
You can click and see it bigger, just so you know.
Aren't they cute?
The Inova bed that the kids fought over
After the barrage of photos we went back to our room to freshen up. Our room was in a great spot! We were in Building #5 which is the Nemo building on the left side as you exit Animators Hall (or whatever it's called!). Our room was about 6 doors down the first floor hallway on the left.
It was incredible and surprisingly spacious and the theming was great. It wasn't the most posh room (that would be the room at the Poly where we slept the night of the wedding!) or the most romantic, but it was perfect for our goofy little family.
There was a master bedroom with a door and it's own bathroom with a standup shower, a main room with a pullout sofa bed, TV and dresser and finally, the "kitchenette" area with a fridge, sink and microwave plus the famous INOVA bed. It's essentially a murphy bed and a table. The kids fought over who was going to sleep upon it before we even arrived so we flipped a coin and then they alternated nights between the table bed and the sofa bed.
Ahhh, the buffeteria!


By now, it was noonish and we were all hungry and chomping at the bit to get on a bus and head to the Magic Kingdom but we figured it might be our only chance for a meal at the resort and I was all psyched to try the surf and surf burger.
The cafeteria set up presented a little bit of a challenge to our family of six. It would take forever if we all waited together in each of the lines. Even splitting into groups of two would make things take longer so we decided to let the two 8-year-olds pick what they wanted and go get in the line. Each adult took one of the younger boys.
It all worked out. We had to make the decision to give the older ones a little more freedom and a little less supervision and it all worked out okay.
Must have shot in front of the train station.
And then we were off to the Magic Kingdom. We ran into the Photo Center past the tunnels to buy our Photopass Plus. I wasn't really sure about it at first and I wanted to make sure it was worth the hefty in-park price tag (you can buy it in advance at a discount) but when I figured out we'd be buying the DVD of our photos anyway and we had a number of character meals scheduled it seemed to balance out. Then my sister explained that you also get the digital download of all your ride photos too and that sealed the deal. They give you a disc with photos of the parks and resorts in a DVD case and a photopass card on a lanyard. For all of our meal photos, we just showed the card and they handed us our photo package. Sweet!
Anyway, the park was all decked out for Fall/Halloween and I LOVED it! Off we went to Adventureland, where we traditionally start our days in the Magic Kingdom.
Things we rode included: Magic Carpets, Jungle Cruise, Pirates of the Caribbean (yay! Mermaids!), Big Thunder Mountain, Haunted Mansion (twice) and Small World.
Monster faces outside the Haunted Mansion.
We had dinner at Columbia Harbor House and we found a great spot to see the Main Street Electrical Parade in Frontierland and while we watched, we all had ice cream.
I was pleasantly surprised that there was no fighting among the munchkins. We took a more leisurely pace than Prince Charming and I are used to and it worked out great. I wish I had a funny little anecdote to share involving my children behaving badly but, thank goodness, they were wonderful little munchkins.