This is the David's flagship store, not the one I went to.
Just sayin'.
I was nervous about dress shopping. I haven't lost all the weight I want to yet. I've been feeling pretty down on myself. For some reason my skin is breaking out like I'm still a 15-year-old oil factory. I needed a good sized dose of feeling like a princess.
So my sister and my friend and I went to a local David's Bridal. Our big budget buster is having the wedding at Disney so spending lots of dollars on a fancy dress was never going to happen. It just happened to be the weekend of the David's clearance sale and I was hoping to snatch up
one of the dresses I'd posted about last year
.
I tried this on. It was
not pretty on me.
At all.
We were given a consultant, Deborah, who didn't quite fit the mold I expected. She was a little older. A little mousy. She asked what kind of dress I had in mind. I told her I was hoping for a white strapless with either an empire waist or an A-line style. I told her that we're having a destination wedding at Disney and we bonded a little bit over the magic. Off she zipped to find me some dresses.
A couple of fancy chairs were set up for my girls and I was given a dressing room a couple of stairs up from the regular store floor level. There was a very thin, very young girl next to me trying on elaborate, bedazzled, ruffly confections and her posse of fifteen women were cheering her on. She looked beautiful and I was starting to sweat a little. On the other side of my little room was a woman wearing a daimond ring the size of an ice cube. Her supermodel bestie was trying on slinky bridesmaids dresses in a very tall pair of heels.
I felt a little out of my element and I wondered if I was going to flash the whole store my Spanx when I came out of the dressing room in a dress three sizes too small that they'll have to clip on me so I can get an idea of what I might look like in a wedding gown.
Deborah returned with an armload of gowns that she hung in my room. She also brought over shoes, a slip and a bra. Into the room I went. From the first round of dresses, she brought over that one up there. I really thought I was going to like it on me. The lace fabric was really busy. The dress was heavy. The little shrug was itchy and it all just wasn't right. Not at all.
It all came down to three gowns and I tried all of them on at least three times.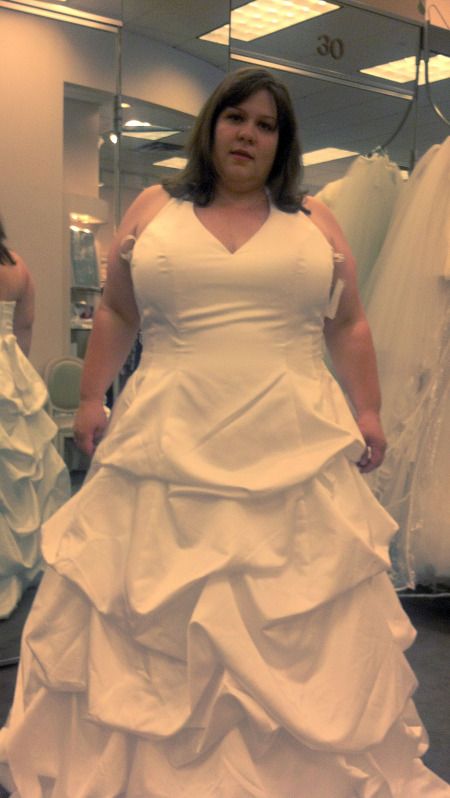 This one I wasn't sure about the halter. I don't generally like halters because with my chest, it feels like they're pulling my head down. I was actually interested in the strapless version of this dress but they didn't have one in the store and Deborah said we could pin and tuck the halter to see how it would look.
I actually liked the halter. I liked the way the dress made my hips and bust look. I loooooooovvvvvved the pickups; however, that sucker was HEAVY. Underneath it, I had to put on this scratchy, uncomfortable, mylon slip from hell.
In the air-conditioned shop that sucker was making my legs sweat. There was no way it was going to hold up to an outdoor reception in humid Florida.
Still I kept looking at it and trying it on. It really did make me feel like a princess.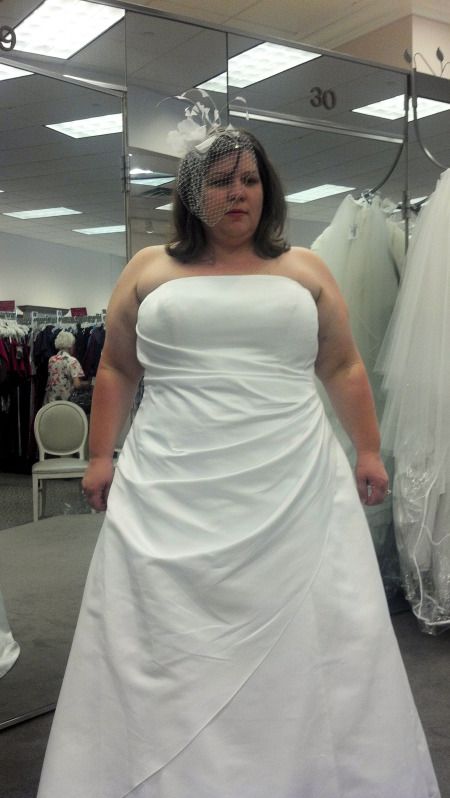 The second of the three gowns was everything I described to Deborah when we first walked into the store. It was a lovely soft white. It was strapless and had a gorgeous A-line to it. It hugged my curves in all the right places.
It too required the dreaded slip.
But I loved the loose folds of the draping and that it looked significantly bride-y. There was some level of familiarity about it though. I wasn't sure if it looked too much like the gown a friend wore when I was her maid of honor or someone else's dress...
...and then it hit me. It's the exact same dress that Prince Charming's brother's wife wore when they got married. Had it been the friend's wedding, I might have considered it a little harder- there'd be a different crowd of people there- but a family wedding? Nope, couldn't do it.
The last of my choices, and the one I ended up buying (at a significant markdown!) was the one I expected to like the least when I saw what consultant had brought over to me to consider. It is totally a destination wedding gown. She said that it reminded her of my beloved Poly. I think I was sold right then.
I don't want to post the picture I have of me in the gown... but here's a little teaser.